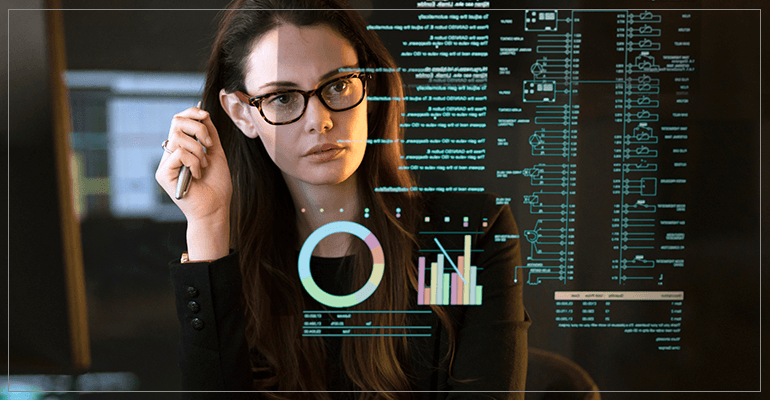 7 Key Reasons Why Every Business should have a Good Data and Analytics Strategy
Nowadays, data is omnipresent. It is a commodity of infinite value—almost everything you do results in the production of new data. For example, when you withdraw money from a bank, data is generated and stored. Likewise, when you visit a website, you build data that Google and other third-party companies can store and utilize.

Earlier, data teams used to invest tons of energy to provide data for analysis due to technological constraints. But now, with the latest advent in technology, it has become easy to manage, store and analyze data from distinct sources and provide it to business users for decision-making in real-time. Therefore, every business must consolidate an efficient data analytics strategy.

Let's look at the seven key reasons why every business should have a good data and analytics strategy.
1. Recognize Business Opportunities
Do you ever feel that some companies get to know what you are thinking and present the exact email promotion right after you think about their product?

Prospecting, sales, marketing, and customer utilization data helps to recognize opportunities in business and capitalize on them. Limited ad clicks = less cost, enabling companies to generate higher profits through users. In addition, one of the most significant benefits is a better customer experience through the sales process, driving to higher net promoter scores and decreasing acquisition costs through organic traffic and positive brand recognition.
2. Enhance Productivity
To consolidate data analytics, it is necessary to assemble data about your organization's internal and external environment. Analytics helps to use data and obtain insights to make better decisions about your organization's sales, marketing, finance, product development, and other essential functions. It helps you enhance the productivity and performance of your operations. The massive amount of data that you manage, store and analyze, allows you to:
Collaborate and Perform
Maximize product offerings
Excel competitors
Not just this, but data analytics assists you in determining problem areas and recognizing error-prone operational areas. This would encourage you to discuss the issues in time and save you from unnecessary hassles.
3. Increase the Efficiency of Marketing Efforts
Data analytics aid businesses improve customer-centric marketing campaigns. Just reminiscing about this next time you get connected with an endorsement.
Let's see a few examples based on this.
How precisely did the company congregate its message?
Do they know what you were looking into and can easily articulate the solution?
Would it be okay to support the audience around the internet displaying ads?
Would it be okay to describe a story or present clickbait?
Businesses that know what customers want can craft powerful campaigns. They can personalize their campaigns to target their customers efficiently and intrigue them. Everything seems great, in theory, but utilizing data to get an in-depth understanding of who your customers are and what their decision-making habits will be essential to crafting a thriving message.
Webinar: How can you Maximize Lead Conversion Success Using Predictive Marketing Analytics?
4. Cost Reduction
Data analytics saves money by distinguishing effective ways of doing business and eliminating inefficiencies. Additionally, it helps in the increase of products that match the market and satisfy consumers' needs. Better not to waste money and occupy resources on products that are not appropriate for your target market. It's good to assist your customers to save a bit on prices and keep them notified about your additional services to maintain them by keeping them happy.
5. Building of Brand-new Products and Services
Product and service analytics allow you to recognize customer needs and anticipations that lead to a better product for your end-user. Examining the following is an excellent start to comprehend where to go with your product next.
Overall product usage
Client net promoter score
Application Implementation
Natural language critique on customer feedback and 3rd party reviews
Customer and product churn
Following the present situation of the business and trends of product/service usage aids in forecasting future outcomes. You can build products and services that meet customer needs. Instead, you can provoke demand and create products and services to meet it.
6. Acquaint Decision Making
Analytics empowers the ability to make decisions rapidly and with precision. Your decisions are not limited because a data analyst has not yet finished processing your data. Obtaining refined data quickly allows you to move faster and adhere to deadlines without the opportunity of making emotionally driven, confusing decisions. The outcome will be intelligent decisions and advanced business execution, and profitability.
7. Improve Competition
Driving an organization is Commencing. Establishing an organization might be slightly grotesque. Analytics encourages companies to manage and process data to reduce as much risk as possible and feel positive in their decision-making. Forrester reports that 60-73% of all company data goes unused for analytics! Being one of the companies that take additional time to do the math, suggest the right questions, and look for proof-based answers before action gives a competing advantage by acquainting decision-making, reducing costs, and improving operational efficiency.

Businesses can recognize gaps competitors aren't sufficing and leverage them. Utilizing analytics, organizations can enhance the customer experience to assure maximum customer satisfaction. This provides businesses an advantage over competitors.
Conclusion
The ease of access to data is transforming economies. For the first time in history, small companies have access to data to stay competitive with their extensive business complements. Businesses are leveraging data analytics to provide extra value to their customers and remain competitive against smaller, more agile companies. Positive outcomes like making better decisions, increasing productivity, building profits, and enhancing efficiency are all windfalls of using data to make decisions.

If you are looking to execute or reinvigorate your data analytics strategy, contact the experts at Anblicks for all your data and analytics needs.