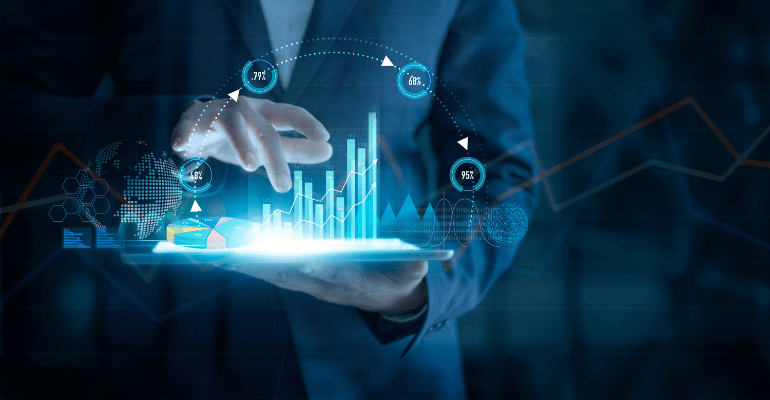 5 Data Analytics Trends to Look Up for During the Pandemic in 2021
COVID-19 has altered the business dynamics today. The traditional bricks and mortar working of any organization have proven to be incompetent to cater to the disrupting business environment. These times are calling for new resolutions to analyze the operations and general behavior of the customers. Therefore, organizations are investing their resources in upgrading their data analytics solutions and services to generate better leads and business.
Data analytics is breaking innovation ground almost every day. The technology expands its benefits to various sectors such as manufacturing, finance, logistics, real estate, automotive, and the healthcare industry.
Since these industries are potential users of the technology and have been severely affected by COVID-19 in operations and sales, they are looking forward to revolutionary benefits of data analytics to help themselves jumpstart their business post-pandemic.
So what are these trends that are attracting business leaders across the globe to opt for the technology? Let's have a look:
Trend 1: AI and Data Analytics: Union of Benefits
According to a report by Gartner, 75% of enterprises will shift traditional data analytics solutions to AI-powered data analytics.
Artificial intelligence or AI is breaking ground every day for multiple businesses globally. The technology is assisting the organizations to automate and optimize the business processes, allowing them to save time and money and improve the operations' productivity.
At the same time, data analytics is helping these businesses to analyze the data that is to be fed in the AI models for accurate execution. It allows the company to develop insights that can help them make better decisions for a sustainable future.
Bringing the two technologies together can help the organizations to leverage dual benefits. On the one hand, it can help enterprises accumulate data for better insights, and on the other hand, it can eliminate human intervention resulting in better results.
Moreover, AI techniques such as reinforced learning, adaptive machine learning, and predictive maintenance will allow organizations to develop complex simulations to overcome the pandemic effects on their business.
Also, businesses are looking forward to data analytics solutions with AI embedded in them, resulting in automated insight development for pinpoint accuracy in final results.
Trend 2: Data Management Augmentation
Data management augmentation uses technologies such as artificial intelligence and machine learning to improve and optimize data operations in the business. During the process, it also converts, metadata which is further used in lineage, auditing, and reporting to powering dynamic systems.
The products developed by data management augmentation can analyze massive samples of operational data, including queries, schemas, and performance data. With the help of the existing workload, a data management augmentation engine can optimize the configuration of the infrastructure, enhancing security and performance.
Data analytics leaders worldwide are enthusiastically looking forward to implementing data management augmentation into their business processes to enable active e metadata to simplify and consolidate their existing architecture. They are also willing to implement the technology to increase automation for redundant data management tasks in their business.
Trend 3: X Analytics
"By 2025, X analytics will trigger major innovations in and transformation in 75% of Fortune 500 companies" –Gartner.
"X Analytics," a term coined by Gartner as an umbrella term where "X" represents data variables for a range of structured and unstructured content such as text, video, and audio analytics. Over time, data analytics is used to solve several business challenges that were hampering business growth.
With the implementation of X analytics, data analytics leaders can solve challenges at a large scale as it allows the users to analyze large chunks of various data from multiple sources simultaneously.
Trend 4: Data Fabric at the Foundation
With data getting complex everyday and business looking for accelerated growth in the digital sector, data fabric architecture shall serve as the vital support for composable data analytics and its components. The global leaders of data analytics are exploring the capabilities of X analytics from their existing vendors, such as cloud vendors for image, video, and audio analytics.
However, the real innovation is expected to come from small and medium-sized companies providing cloud and data engineering services.
Trend 5: Data Analytics Moving to Cloud
According to a report by Gartner "Public cloud services will be essential for 90% of data and analytics innovation by 2022."
Prior to COVID-19 pandemic, organizations were reluctant to migrate their data storage to the cloud. One of the significant reasons for the same was cloud was built for transactional purposes, instead of memory-hogging analytics.
However, with recent innovations in the field of cloud such as homographic encryption, artificial intelligence, and Internet of Things (IoT) the cloud has become swift, smart, secure, and flexible than ever before.
Earlier, the data warehouses which were physically present on premises of on an organization are now availing the benefits offered by the cloud or third-party service providers such as Amazon, Google, and Microsoft.
The agility offered by the cloud will allow enterprises to leverage the benefits such as end-to-end data warehousing with innovative analytics. As a result more businesses are moving their database to the cloud.
Authors Pick
Data analytics is evolving with every passing day. With innovations and evolving technologies like IoT, artificial intelligence, and machine learning, the technology is gaining momentum that can help businesses overcome the adverse effects of the pandemic.
Organizations like Databricks are extensively updating their data analytics solutions to cater to the changing needs of the business.
Let's wait and watch how data analytics transforms once the trends are fully applicable.
Curious about how data analytics can help your organization in generating better business?