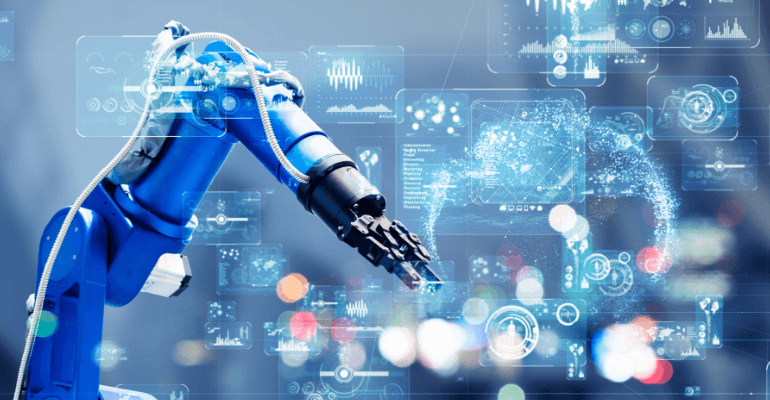 How Big Data Analytics in Manufacturing Strengthens the Industry?
Manufacturing remains a critical component of the world's economic engine, but the role it plays in advanced and developing economies has transferred dramatically. According to a report by Research and Markets, the manufacturing industry market value was $904.65 million in 2019 and is expected to reach $4.55 billion in 2025. With big data analytics in manufacturing, manufacturers can uncover the latest information and recognize patterns that allow them to enhance processes, boost supply chain efficiency and determine variables that impact production.

Top leaders in manufacturing companies understand the significance of the process. A KRC research study found that 67% of manufacturing executives thought to invest in data analytics, even in the aspect of pressure, to reduce costs in this unpredictable market.

To comprehend big data analytics in manufacturing and its consequences, let us dive into how its intervention improves and modernizes the operations.
Acquiring Asset Performance and Productivity Increase
Since manufacturing profits depend wearily on maximizing the value of assets, performance increases can impact huge productivity enhancements even if it is only enhanced on the margins. Similarly, a decrease in asset breakdowns can reduce inefficiencies and prevent losses. For these purposes, manufacturers concentrate on maintenance and constantly optimize asset performance.

This data potentially is of great value to manufacturers, but many are surprised by the sheer volume of incoming data. Data analytics can help them captivate, clean, and interpret machine data to reveal insights that can help them improve performance.

In addition to allowing historical data analysis, Big Data can propel predictive analytics, which manufacturers can use to drive predictive maintenance. This enables manufacturers to prevent expensive asset breakdowns and dodge unexpected downtime.
Creating Feasible Product Customization
Traditionally, manufacturing focuses on production at range and allows product customization to enterprises serving the niche market. In the past, it did not make sense to customize because of the time and effort engaged to request a smaller group of customers.

Big Data analytics is evolving by making it possible to assume the demand for customized products precisely. By identifying the changes in customer behavior, Big Data Analytics can allow manufacturers to produce customized products almost as effectively as goods offered at a greater scale. Innovative capabilities include tools that enable product engineers to collect, analyze and visualize customer feedback in near-real-time.

By providing manufacturers with the tools they want to deep dive into processes, Big Data Analytics enables them to distinguish points within the production process where they can successfully include custom processes using in-house capabilities or delay production to facilitate partners to perform customization before completing the manufacturing process.
Increasing Supply Chains & Production Processes
In this evolving global and interconnected environment, manufacturing processes and supply chains are deep and complicated. Efforts to modernize the processes and optimize supply chains must be maintained by the ability to analyze every process component and supply chain in coarse detail. Big Data Analytics provides manufacturers this capability.

With the right analytics, manufacturers can zero in on every section of the production process and monitor supply chains in exact detail, considering every individual activity and task. This capability to narrow the focus enables manufacturers to identify bottlenecks and reveal underperforming components and processes. Big Data Analytics also unveils dependencies, empowering manufacturers to strengthen production processes and generate alternative plans to discuss potential pitfalls.
Top Manufacturing Big Data Analytics Tools
Check out some top-notch tools that manufacturers are successfully using today to optimize asset performance, enhance production processes and alleviate product customization. Here is a brief overview of quintessential Big Data Analytics tools:

Apache Hadoop: Apache Hadoop is a software framework utilized for collected file systems and managing big data. It processes datasets of big data using the MapReduce programming model. Hadoop is an open-source framework that is coded in Java and provides cross-platform support.

Cloudera: CDH (Cloudera Distribution for Hadoop) points at enterprise-class deployments of that technology. It is completely open-source and has a free platform distribution that incorporates Apache Hadoop, Apache Spark, Apache Impala, and many more. It enables you to gather, process, manage, distribute, discover, model, and share unlimited data.

KNIME: KNIME stands for Konstanz Information Miner which is an open-source tool utilized for Enterprise reporting, integration, analysis, CRM, data analytics, and business intelligence. It supports Linux, OS X, and Windows operating systems.

Xplenty: Xplenty is a platform to combine, process, and provide data for analytics on the cloud. It fetches all your data sources together. Its inherent graphic interface will help you with executing ETL, ELT solutions. Xplenty is a comprehensive toolkit for building data pipelines with low-code and no-code capabilities.

Datawrapper: Datawrapper is an open-source platform for data visualization that supports its users to create easy, precise, and integrated charts immediately.

Tableau: Tableau is a software solution for business intelligence and analytics which offers a wide array of integrated products in visualizing and interpreting their data. Tableau is proficient in managing all data sizes and is simple for technical and non-technical customer base and provides real-time customized dashboards.

Talend:
Open studio for Big data: It appears with a free and open-source license. Its components and connectors are Hadoop and NoSQL.
Big data platform: It has a user-based subscription license. Its components and connectors are MapReduce and Spark.
Real-time Big data platform: It has a user-based subscription license. Its components and connectors include Spark streaming, Machine learning, and IoT.
RapidMiner: Rapidminer is a cross-platform tool that allows an integrated environment for data science, predictive analytics, and machine learning. It comes under various licenses that offer small, medium, and large established editions as well as a free edition that provides for 1 logical processor and up to 10,000 data rows.
Conclusion on Big Data:
With the proper data integration and management platform, manufacturers can finally leverage the data's strategic value, enhance operations, gain profits and strengthen relationships with customers, suppliers and partners. Establishing Big Data to work has never been more critical, and the time to make the data integration and management tools to unlock data's value is now present.
Want to know how big data analytics in manufacturing helps organization to gain profits and strengthen relationships with customers? Let's connect and discuss.