How does Enterprise Applications Integration Improve Business Performance?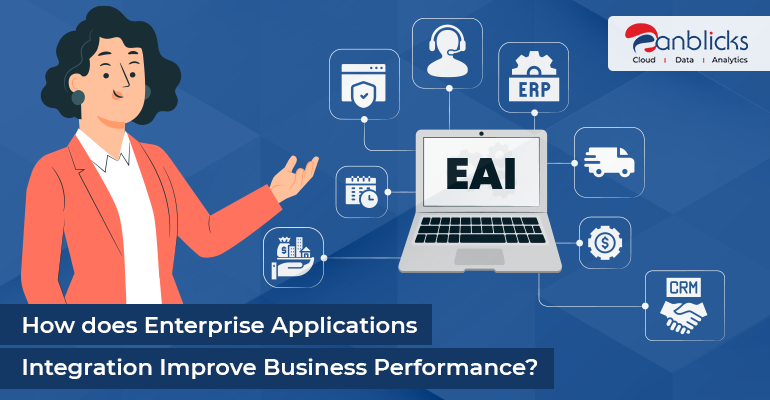 How does Enterprise Applications Integration Improve Business Performance?
Enterprise application integration has become an exceptionally significant concern in this hyper-competitive world. The comprehensive approaches and ideologies around this idea prove that enterprise application integration is extremely important.
Nowadays, Enterprises are driving at a constant pace, with technology having a fundamental impact. Be it any modern-day technologies – Big data, IoT, or Cloud Computing. Customers can easily get control of their corresponding data from anywhere and anytime.
Many applications are required to manage things when someone starts a new business, such as CRM, SCM, Workforce Management, EAM, ERP, etc., and more.
But, when a small business becomes an enterprise, it isn't easy to manage all these applications smoothly as they are not interlinked. Because of this, many problems occur in the business, like data duplication, data security, and transparency between different departments. Keeping all departments in sync and streamlined at an enterprise level is important.
According to the MarketWatch report, the global enterprise application integration market size is expected to grow at a CAGR of 16.32% during the forecast period 2021-2024.
Enterprise application plays a significant role in understanding and sufficing the needs of your employees, customers, partners, clients, and other stakeholders to improve business performance. In this article, you will get detailed insights into how enterprise applications integration improves your business performance and its benefits. But before jumping through the benefits, let's understand what Enterprise Application integration (EAI) is and how it is helpful?
What is Enterprise Application Integration (EAI)?
Enterprise Application Integration (EAI) is a collective term for mechanisms and processes that enable organizations to integrate various software applications, such as Salesforce, Oracle Siebel, Jive, ERP, Treasury Management, SCM, Payroll system, Human Resource Management, and many more. EAI provides the means to transmit data from one application to another or from one organization to another.
Various organizations can use this capability, such as manufacturers, retail chains, healthcare providers, governmental bodies, and schools. EAI technology is often used because it enables organizations to reduce costs and minimize risks while transferring data internally and externally.
Example of Enterprise Application Integration
Let's consider traditional banking. In traditional banking, customers need to visit a bank to know the balance, withdraw cash, and solve any issue related to the banking. But all this was a year ago. Nowadays, all banking services are online. Customers can check their balance status online, withdraw cash anytime, and get satisfactory answers from the call center anytime.
For a better customer experience, all delivery channels need to be connected with the core banking system to provide these services. A core banking system is a banking software that enables a bank to offer its services. To provide the same service through different channels like a call center or internet banking, every time a new link is created to interact with the core banking system. It is also a cost-increasing factor for banks.
And Therefore, Enterprise Application Integration comes into the picture. EAI plays a central role between the channels and core banking. It creates a permanent link between the core banking and EAI itself, as well as the delivery channels. Once the link is created, it will be used across all delivery channels, and they don't need to go to the core banking. This is how banks can reduce development costs and increase scalability as well.
So, this was a quick brief on what EAI is. Now, let's go through how EAI can benefit your business to grow in this competitive market.
Related resources:
What are the Benefits of Enterprise Application Integration?
I assume that you have a clear understanding of what EAI is. Now, let's deep dive into the benefits to know how EAI can help your business to grow, retain and attract more customers.
1. Information Sharing becomes Easier than Before
The purpose of EAI is to centralize all data related to services and information. Businesses can get several benefits by keeping all information in a single location. Employees can access all related files, systems, services, and more at a single location without wasting time searching in multi-locations.
In addition, reviewing data in real-time will be much easier than before. Now, you don't have to wait for the information generated by various departments and segments. By accessing the information from a single repository, it is easy to make a more informed and accurate decision that helps businesses to grow faster.
2. Improved and Simplified IT Processes
The most important thing in any organization is how simple and accessible their IT processes are. Providing simplified technologies to the customer is a great opportunity for any enterprise to build trust, eventually resulting in more customers. It is quite difficult to manage IT infrastructure in big companies, which thereby impacts its annual revenue due to higher management costs.
Hence, Enterprise application integration is considered to be the savior for these situations. It's an easy work process that helps users to access data anywhere, anytime. The organization also gets benefits from EAI to serve data to their potential customers, so it is a win-win situation for both users and companies.
3. Helps in getting new Opportunities
One of the key benefits of enterprise apps is that important stakeholders and decision-makers in your organization can identify and respond to unique opportunities at a moment's notice. This empowers your organization to stay ahead of market trends, discuss reputation management problems, handle supply chain problems – and a lot more from a single app that you control.
4. Increased Work Efficiency and Productivity
The biggest benefit of EAI is, it helps to increase employees' productivity and work efficiency. Moreover, enterprise applications play an important role in building strong communication across all departments and between your company and customers.
Enterprise application brings fluidity to the workplace. All employees can make seamless communication with one another. Additionally, they can discuss various projects and share relevant data more effectively.
Enterprise apps empower employees' flexibility. The system can also be accessible from mobile or any other device even though they are not closed to the system. As a result, we can say that Efficiency and Productivity both increase at certain points.
5. Reduces Working Time
Employees' time is very important in any organization because it impacts their overall performance and productivity. If they invest their time in repetitive tasks, productivity might hamper. And thereby, Enterprise software plays a significant role in reducing or completely fixing this issue.
Simply we can say, enterprise apps can save valuable time to share and retrieve the data with the help of cloud technology. Also, real-time report creation and sharing with customers, colleagues, or other stakeholders can save lots of effort. This can increase your sales, marketing, and other core processes substantially.
6. Enhance Customer Experience
Enterprise application is very important if you want to increase your customer experience. Good customer service relies on how fast your team solves the problem and responds to your customers' feedback. It is not possible that the employees will be there all the time near the desk to answer your questions. But with enterprise applications, businesses can overcome this challenge and can increase customer engagement.
7. Better Control on Information Flow
Enterprise application provides out-of-the-box mechanisms for better control over the information flow. Being a business head, you can have an eye on every data the employees consume; you can also ensure that no one shares confidential data outside the organization. Also, it becomes easy to examine whether the IT process and marketing strategy are working fine or not.
8. Reduce Human Error by Automation
Manual data insertion can create a big enigma, even though experts work on it. Sometimes such obstacles can spoil the whole organization's reputation, resulting in interruptions in efficiency and productivity.
Businesses can reduce these errors in enterprise applications because most systems are now automated. Also, automated systems make it simple to save time because you won't invest your time monitoring and reevaluating the data over and over for accuracy.
To sum up
Enterprise application integration is an essential part of digital transformation, so one should not consider it as an option. It is acceptable that not every type of EAI has to be implemented by every organization. But, at a certain point, every business should think about enterprise application and adopt it by considering its benefits discussed above. EAI empowers businesses for better agility, increased productivity, time-saving, etc., and more.
If you are a business head and want to handle your business in a manner near to perfection, select Enterprise Application Integration and make your business rise to the next level of success and glory.
Anblicks team will help you to build efficient and user-friendly enterprise software solutions to help take your business to the next level. Contact us to learn more.
Krunal Vyas is a Sr. digital marketer at Anblicks. He is fond of exploring new technology and research & development. His main interest is to explore how Modern Apps can benefit businesses to enhance user engagement. Besides, he likes to share his knowledge by writing meaningful content to educate the audience about Modern Applications.