FAQs on Anblicks Config Driven Framework (CDF) Powered by Talend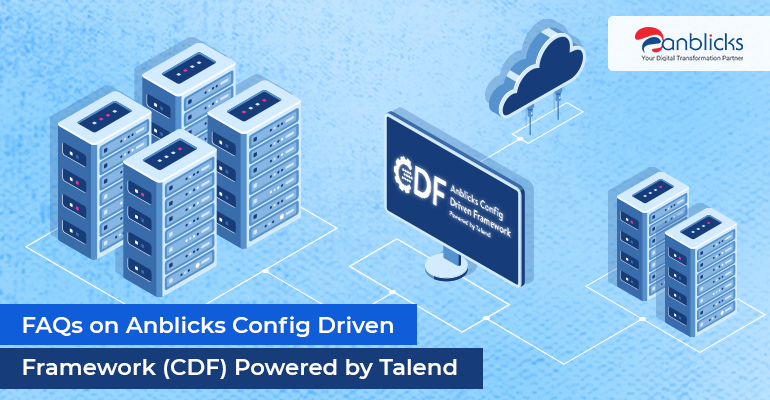 FAQs on Anblicks Config Driven Framework (CDF) Powered by Talend
1. What is config driven approach?
The configuration-driven approach moves the drivers of logic in our code from the code itself to a table reserved only for things we can configure. With config driven approach, you don't need to modify the code every time to apply changes; you can plug in a new configuration to apply the changes.
2. What's the need for a configuration-driven ELT framework?
Development speed
Minimize effort to load & transform data
With loads of information available at your disposal, it's easy to use and learn.
Governance
Building a new framework will help enforce the best practices and enterprise-level standards for better security and data governance policies.
Identify changes quickly
With the framework in place, developers can have source control and quickly identify the changes in config files.
Reusable
The framework is reusable; it's not specified to one team; different teams can use the framework and scale on an enterprise level."
3. Does TalendCDF handle ETL data migration?
Yes, it can handle ETL/ELT data migration with low code; AnblicksCDF was developed to address the present-day data integration challenges such as increased development time, operational inefficiencies, maintenance cost, and performance issues.
4. Is TalendCDF supports all kinds of data sources?
The tool is config-driven instead of code-driven. It has built-in support for RDMS, APIs, flat files, and semi-structured data sources like JSON or XML.
5. Does TalendCDF supports cloud migration?
TalendCDF can migrate from OnPrem to Cloud, data stage, or legacy technology to Talend migration, version, and JDK upgrades.
6. How Anblicks Config Driven Framework can help accelerate development and reduce maintenance?
As a Talend gold partner, we aim at providing customers with the ability to solve disparate data integration challenges and transform their business operations with data-driven decision-making. Our certified Talend architects bring deep Talend design and big data expertise to help you accelerate all your data and ETL/ELT initiatives.
Anblicks config-driven framework is a Low Code Enterprise ETL/ELT Framework powered by Talend. Its comprehensive logging and error handling mechanism allow parallel task execution to reduce development time. The out of the box operational dashboard helps in efficient troubleshooting and monitoring of failed tasks.
Please refer to the below picture to learn more about the features and benefits of TalendCDF.
Are you interested in learning more about TalendCDF or how it can help your organization? Schedule a Free Demo
Saikiran Bellamkonda works as a Sr Digital Marketer at Anblicks. He focuses on developing, implementing, & managing innovative Inbound and Outbound initiatives. He also applies his deep knowledge and experience to write about Data Modernization, Data Management, Data Analytics, and Visualization. He is a travel and fitness enthusiast.